Why You Need Premium Web Hosting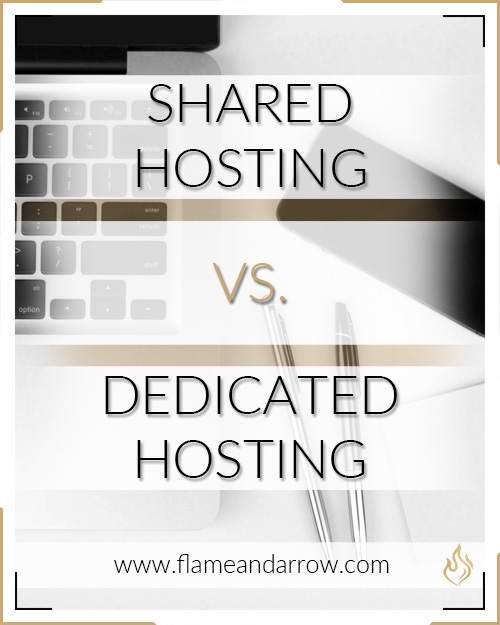 If you're reading this right now, you likely either have a website, blog or online business, or you're planning to start one soon. When you first start your online business, it can be really difficult to know where to begin. After all, there's so much that you need to do and there is so much information floating around out there. Likewise, if you've been in business for a while, you may be experiencing growing pains. It's a good problem to have, but it, too, can be extremely stressful. You probably know that it's time to start looking into more premium systems versus paying the bare minimum. No matter which category you fall into, you need a hosting provider to host your website.
This post will go into specifics about why premium hosting may be the right choice for you and your business. If you're not quite sure what that means or how it applies to you, keep reading and this post should answer all of your questions. Please note that this post is specifically referencing WordPress-hosted websites. If you're curious why we unequivocally recommend WordPress opposed to other platforms, you can check out that post here.
What's the difference in sharing hosting versus dedicated hosting?
Shared hosting means that a single web server has multiple websites on it. Although each of these websites have their own, unique domain, it's the luck of the draw what other websites your site will be sharing that web server with.
Dedicated hosting is when a client leases an entire server from a web host provider, meaning the server is not shared with any other websites. Dedicated hosting is sometimes referred to as a managed hosting service.
What does that mean for you?
• Poor page performance
• Negative effects on SEO and rankings
• Poor customer service
• Downtime server issues
• No immunity or security leaks
• Limited features and control over software
• Extra fees tacked on
Essentially it means that when you're first starting out or when you don't have a lot of website traffic, you have two primary options for hosting your website, either shared hosting or dedicated hosting. But it's important to know that they are not created equal.
When you first start out or don't have a significant amount of traffic, shared hosting can be a cost-saver on the front-end. You can share your hosting with other websites and pay less money. But there's a catch. In the long-run, shared hosting almost always costs more money, more time and more stress.
Here's why:
>added fees
The internet is full of low-quality hosting providers. Even some of the big-box hosting providers and names you may be familiar with are notorious for offering you an amazing price point when you first sign up. Think $1.95 per month (or similar) for your first 12, 24 or 36 months. But when you go to renew? They jack up the price – sometimes to an even higher cost than a dedicated host.
>anything 'extra' costs more money
Want the security of having your website backed-up? Using an inexpensive, shared hosting provider will often charge extra for this. Some charge additional for SSL certificates, which are a necessity for your website today. Others charge a set-up fee. And some even charge for "increased speed." When you add up these additional fees, the "cheap" option actually isn't quite that cheap anymore.
>Lost traffic (and potential clients) because of a slow or blacklisted site.
Since your website is sharing a server with dozens (hundreds, or even thousands!) of other sites, your site is sharing resources with alllllll of those other sites. This means that your site may load like a snail, resulting in less traffic for you because clients click away. Additionally, because your site is sharing with other sites – none of which you know what they are – you can get what is known as blacklisted. Blacklisted means the entire IP address is blocked from Google and other search engines. So let's say your floral website is sharing a server with a big political site that gets taken down. Boom. You're blacklisted. Or let's say your website is sharing a server with a porn site (stinks to think about, but it is a definite possibility with shared hosting). Boom. Your site is completely blocked.
>Lackluster customer service
Some shared hosting providers have better reputations than others. For example, some designers recommend BlueHost. Why, I have no idea, as I've had to wait nearly TWO HOURS on more than one occasion for a service rep to connect, but I digress. But my point is, lower price points and higher amounts of customers mean that wait times can be insane if you ever have an issue. Want to connect to chat? Wait times can be brutal. Calling can be quicker, but if the hosting provider is located Stateside and you live abroad, paying the fees to call blows any savings you may have had.
>Susceptible to hacks and bad security.
Since shared hosting uses the same server for so many sites, if there is ever a security breach with any of the other sites on your server, your site also becomes susceptible. Even if your website is up-to-date and secure, others on your shared server may not be, which makes your site vulnerable to hacks, breaches and infection.
I'm definitely not trying to scare you here; if you have shared hosting, you can certainly change it. And if you've had a good experience with it, I'm honestly, truly excited that you don't had any bad stories to share. : ) But if you're just starting out and looking for advice on what to do: go with dedicated hosting. Although you may save in the beginning, you'll likely be paying way more in the long-run with shared hosting, if not in money, then in time and stress. I also think there is a big misconception that premium service means a premium price tag. This is not necessarily true. Dedicated hosting doesn't necessarily mean that you have to pay an exorbitant amount of money. And honestly, you have enough on your plate as a business owner. The peace of mind alone is worth the small additional cost of going premium.
Recommendations:
Flywheel + WPEngine
SiteGround
We love love love Flywheel and have had amazing experiences with them. We have also had good experiences overall with Siteground using their dedicated servers and have had great experiences with WPEngine. (Update: As of June 2019, WPEngine is to acquire Flywheel. So you can get the best of both.) Below I'll go into the benefits of dedicated hosting, with Flywheel specifically so you can really compare the differences and benefits of premium hosting.
Security. Flywheel constantly monitors sites for malware and hackers, and in the unlikely event that your site gets hacked, they'll fix it for free. Additionally, you'll have your own server, so you won't be sharing with hundreds of other sites. You also have your own dedicated IP address with us.
Speed, Availability and Reliability. You won't need to deal with caching plug-ins and trying to optimize performance out of a shared server. Their servers handle caching for you, which gives you global availability and allows your site to load faster – from every corner of the globe.
Growth. You won't have to deal with disruptions of service due to shared server issues, which means your visitors won't be dealing with a crashed or slow site. This means better site reputation and it paves the way for thousands of visitors with ease. Additionally, premium hosting providers usually won't shut your site off because it got too big for your plan, even if you exceed plan specifics. If, and when, you need to upgrade to a bigger package, you can with ease, which makes your business truly scalable.
Control. You'll have your own dashboard and you will be able to control every aspect of the site. You can invite collaborators and set them up with their own username and password, which is great for assistants you may work with. If things don't work out, you have complete control; you won't need to worry about changing passwords or worrying about anyone who has access to your site, you simply take them off as a collaborator.
Backups. They backup your site every night (free of charge), so if something ever does go wrong, you're not losing weeks or months of content. You can typically click one button for a back-up and restore.
Pricing. Flywheel offers premium service, updates and security for an all-inclusive price. There is no price gouging when you need additional bandwidth, backups or decide to go "pro." Premium hosting providers also don't charge a renewal fee five times as much when your initial hosting plan expires. Finally, the pricing is clear and easy to understand versus trying to go around in circles to add a quote for additional specs with a traditional host.
Personalized Service. You won't have to deal with pulling up chat and having to wait 50 minutes for an outsourced agent who is working ten other chat boxes and isn't proficient in WordPress. If you need support, there is 24/7 support. Plus, since Flywheel only works with WordPress, they know it inside and out.
WordPress Experts. This goes along with the point above, but since they only host WordPress websites, they are completely knowledge in WordPress. The platform is also optimised for performance and speed specifically for WordPress websites.
Free SSL. An SSL certificate is a necessity for a website today. This will create a secure connection between your server and your visitor's browser. It's also protecting the information of your visitors. Without an SSL certificate, Google will not rank your site and on some browsers, your site won't even load.
Dedicated Hosting. It goes along with the whole point of this post. Everyone with Flywheel has their own dedicated IP address. You don't share resources with any other sites and there is no additional fee for this, even in their smaller and basic plans.