WordPress.org or WordPress.com?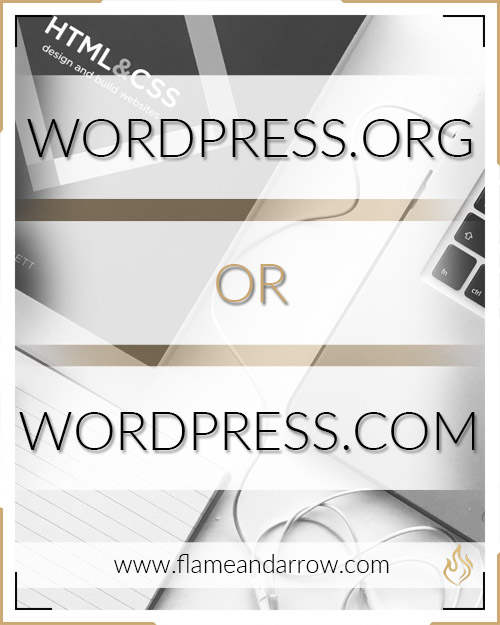 Aah the wordpress.org and wordpress.com debacle. If you're confused by the difference, you're not alone. If you're curious which wordpress is best for you, this post will clear things up.
The difference in wordpress.com and wordpress.org.
First things first.
The biggest difference between the two boils down to who is hosting your site.
WordPress.org is open-sourced software that you can download and use on your own web server. With wordpress.org, you host your own website. This also means that it comes with some additional costs, such as hosting and a theme. As such, you have all of the flexibility that you could ever want. The sky is truly the limit, but there is a bit of a learning curve.
WordPress.com, on the other hand, manages all of the hosting for you. The price point is free to minimal, depending on if you purchase upgrades or premiums. However, there is very little flexibility. Another big downfall for wordpress.com is unless you're upgrading, you will be stuck having wordpress.com in your url. So, for example, instead of www.flameandarrow.com, your website would be www.flameandarrow.wordpress.com.
Ease
While neither is particularly difficult, since wordpress.com hosts everything for you, all you need to do is create your website. WordPress.org on the other hand, is self-hosted. This means that you are required to find, purchase and set-up your own hosting.
There are a multitude of different hosting options out there, each with pros and cons and varying price points. We encourage you to stay away from the big box companies and 100% recommend Flywheel. However, as long as you choose a reputable hosting provider, the set-up should be straightforward and will only need to be done once. Some hosts will also will take care of setting it up for you, as is the case with Flywheel.
Price
WordPress.com offers a free plan. However, you will still need a domain with the free plan. Even though you're not paying for hosting, security or themes, you will still need to purchase a domain in order to allow people to navigate to (and see) your site. This is not expensive (maybe $10 – 15 per year), but it is still necessary to purchase.
With each tier that goes up, wordpress.com offers additional features and functionality, but with a higher price point.
While wordpress.org allows you to use the software free of charge, you'll still need to buy your domain and hosting. You may also benefit from purchasing a theme, different plug-ins and possibly even the services of a developer.
If you want the functionality and flexibility of your own website and want to keep it as affordable as possible without compromising quality, I recommend a basic WordPress (.org) website.
If you'd like to build your own site but don't quite know where to start, the free WordPress in a Week course will be a perfect starting place for you!
Flexibility
With wordpress.com, you're severely limited. Unless you purchase upgrades and premiums (in which case you'd likely be better to just go with wordpress.org), you're unable to change functionality, add code or tweak your site beyond what is included, which is quite simple and basic.
With wordpress.org, the sky is literally the limit. You can add code to change functionality as needed, you can use plug-ins that add features to your site and you can create your site exactly as you want it. You may need to hire a developer or get some help, but you are not limited by the software. You can create whatever you can image your website to be.
Maintenance
It's important to maintain your website. If you use anything Apple, you can think of this similar to software updates on iOs. The developer comes out with bug fixes, security updates and the like. But you need to actually push the button to allow the update to go through. If pushed off long enough, it could compromise your entire system for one reason or another.
There are also core updates that need to be applied. Since wordpress.com is an all-in-one solution, updates are automatically taken care of for you. However, since wordpress.org is self-hosted, you'll need to monitor and install the updates yourself.
Don't let that scare you though. Many reputable hosts will handle these on your behalf (like Flywheel); otherwise, you'll just click "update" within the back-end of your website. 99% of the time things will update without any issues. Never-the-less, it is important to be aware that you will need to update your site if you go with wordpress.org.
Security
Since wordpress.com is a closed system, you don't need to worry about security, period. Though .org is inherently as secure as .com, you're the one responsible for keeping everything secure. This means keeping your site updated (as mentioned above), monitoring it and implementing security practices.
The most common security practices range from installing different plug-ins to using a security feature (or purchasing one) with your hosting provider (Flywheel has a 100% security-guarantee for free).
I'd also like to point out that with your website, you'll need to install an SSL (secure sockets layer) certificate. This certificate protects your visitors' information and is identified by the little padlock in your browser. It's important to note that without this certificate, potential customers cannot purchase anything via your website, Google will penalise your site ranking and browsers may block your site from loading.
SSL certificates are included with .com sites for free. And most good, reputable hosting providers provide these for .org sites as well.
Ownership
If you use wordpress.com, they own your site, plain and simple. This means that they have the option to remove it if they feel it goes against their terms. It doesn't happen often, but it is a little disconcerting knowing that all of your hard work can be gone at a moment's notice if they decide to pull the plug on it.
With wordpress.org, you own your site. Since you are paying for and managing the hosting, domain, security and everything else, is 100% owned by you and you are in complete control. This means no one has the ability to take it down except you (unless you do something illegal and the government decides to shut it down).
Support
The free plan of wordpress.com offers no support except for online forums, which can often cause more confusion than help. If you upgrade, depending on which plan you use for wordpress.com, you can take advantage of email support (Blogger plan) or 24/7 live chat support (Personal plan and up).
With wordpress.org, since you are hosting it on your own, there is no specialised support. You can always try to sift through the online forums or reach out to developers for assistance. Additionally, if you go with a premium theme (like Divi), they have a chat feature of developers who can help you troubleshoot and fix problems as they pop up or when you need help.
WordPress.com offers simplicity but you sacrifice flexibility.
WordPress.org offers flexibility but more responsibility.
Which should you use?
This completely depends on your needs and what you'll be using your website for. For a personal site that you don't want to pay a lot of money for, deal with loads of tech on and prefer an all-in-one solution, wordpress.com may be perfectly fine for you. With that said, we like to think big-picture and long-term. If you have any plans to use your website for business purposes, prefer to own your site and have full control, you should look into wordpress.org.
Overall, WordPress.org is usually the best fit for most small businesses and blogs. Its flexibility, functionality and ability to truly grow and scale with your business instead of hindering it traditionally makes wordpress.org the best option.