Which Website Platform Should You Use?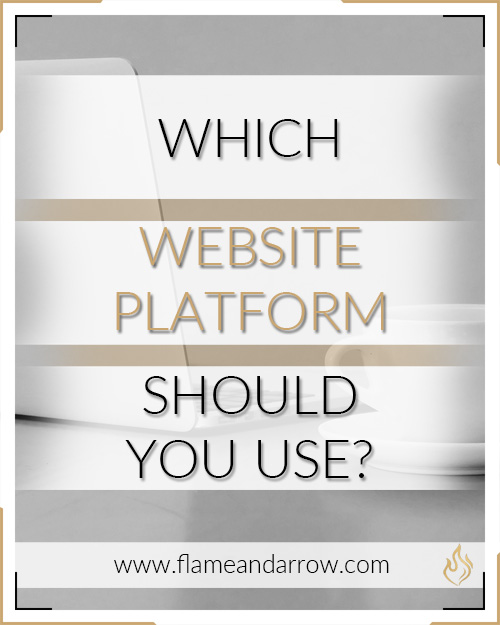 An Overview of the 5 Most Popular Website Builders
You're running an online business (or any business, really) and you need a website. Or you have a business but you're not happy with your current website provider. This means you're possibly looking to change, but don't quite know where to start.
This post is going to go over some of the most popular options for website platforms for small businesses. It is by no means comprehensive, but it will hopefully give you enough of an overview to figure out a good starting point to proceed.
Before we dive in, let me be transparent and say that I am 100% a WordPress girl. After 5-plus years in business and working with hundreds of sites (especially as a web developer for 4 years), it has been the best fit for my business and it's always what I recommend to clients. If you're curious why I feel that WordPress is the best, you can read that here. But in this post, I will do my best to present the facts and an unbiased opinion until the summary at the end. It is my hope that you'll then be informed to make your decision on what is best for your business.
We'll go in alphabetical order and cover the five most popular platforms.
Shopify
Shopify is a growing choice for online stores and ecommerce websites as it was created specifically for these types of businesses. Shopify is a fully hosted solution and offers everything all-in-one, so you won't need to worry about updates, backups or managing software.
Shopify offers a drag and drop interface, so you have the ability to really control how everything looks. Another perk is that you can integrate Shopify into WordPress, giving you access to both platforms at the same time. However, businesses just starting out may find Shopify much more expensive than other options.
Squarespace
Squarespace offers great designs, phenomenal support and it known for its ease of use. It is a fully hosted website builder and is a popular choice amongst creatives. The platform offers fully editable designs and makes it easy to design your site with their drag and drop builder.
Squarespace also offers ecommerce, but they currently have limited integrations with third-party services.
Weebly
Like those mentioned above, Weebly is also a fully hosted platform. This means you won't need to worry about managing your software, and you'll have access to Weebly's designs and built-in features. Weebly also comes with a free plan (although it's quite basic).
Weebly gives you the option to create an online store with their ecommerce feature. However, the platform is limited as you are only able to use their features. A developer and designer is not able to add new functionalities to your site.
Wix
Wix is a fully hosted platform. This means you don't have to pay for hosting, and the platform offers hundreds of templates. You can add features and functionality to your website by installing different apps (there are options for both free and paid). Wix offers a free SSL certificate and has a free plan.
One of the kickers with Wix is the difficulty you'll encounter should you ever wish to move to another platform. If you'd like to keep your domain name you'll need to upgrade to a premium plan and moving your site is quite a complicated process. Additionally, if you stay with Wix, you'll have ads on your site unless you upgrade plans.
WordPress
In WordPress, it's very important to note that there are two versions. The first is the is the free version, which is wordpress.com. The second is the paid version, also known as self-hosted WordPress, which is wordpress.org. Please note that when I say the paid version, this means you are paying for hosting. WordPress itself is free. It's a bit confusing, I know. Go here to read a breakdown of wordpress.com versus wordpress.org.
If you have your own domain name (ie www.flameandarrow.com), you will be using wordpress.org. If you go with the free version, your website URL will look something like this: www.flameandarrow.wordpress.com. That's obviously less than ideal if you're running a business and want to put your best foot forward and present yourself as a professional. Therefore, for the purpose of this post, when referencing WordPress, it will be specifically referring to wordpress.org.
(Want a breakdown of wordpress.org and wordpress.com? You can read that here!)
WordPress is the world's most popular website building platform. It's an open source website builder which means that you have complete control over your website. Plus, everything you put out you own. There is a little bit of set-up involved in addition to building out the site, including hosting and a domain name. But once these are taken care of you don't have to worry about them again. (Not sure what hosting is or if you should go with dedicated or shared hosting? This post will help!)
My recommendation
As a designer, WordPress is by far my favourite. While it can have a steep learning curve when you're first starting out, its flexibility, performance and ability to grow your business puts it ahead of other website builders.
Never-the-less, depending on where you're at in your business journey and what your business goals are, different platforms may be better fits for you. With that said, if you are hiring a designer or developer and they suggest that you use Wix or Weebly, run away. I do not say that to ruffle feathers, but I stand by that vehemently. Wix and Weebly are traditionally used by those just starting out. (If you're a Wix or Weebly designer, I'd love to hear what made you choose that platform, especially if you've been in business for more than 12 months.) As a paying client, even at a low price point to build, you'd be better off either 1) waiting to invest when you can afford a higher price point or 2) building on these platforms yourself.
But with that said. If you're starting your business or you're interested in building a site and don't have the budget to hire a designer, please don't go with Weebly or Wix. Also, if you're doing any research whatsoever about different platforms for your website, you're probably going to start seeing targeted ads popping up all over the place. Don't fall for them! If you have a limited budget or need to go the DIY route, I have a free course that walks you through step-by-step how to set-up and completely build your own website from scratch.
At the end of the day, it depends on your business, budget and unique needs. However, as with most things in life, you really do get what you pay for in regards to website platforms. I would really encourage you to not go with the cheapest option (and please don't buy into those ridiculous targeted ads). Investing either a little bit of time or a little bit of money will set you up so much better for the future as your business and brand grow.
What about you? Which platform do you prefer? I'd love to hear in the comments below!