How to Find Your Word of the Year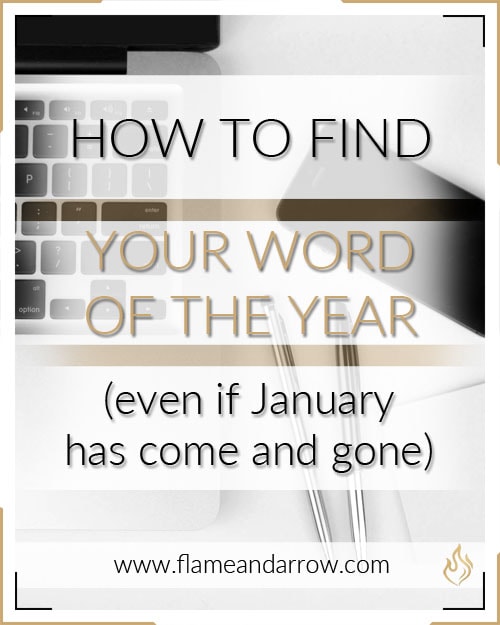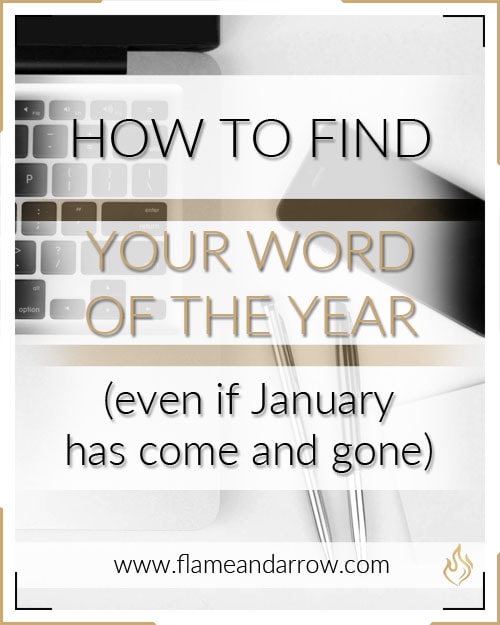 I don't know about you, but I still can't wrap my head around the fact that it's already 2020.
With each new year, there seems to be a plethora of new goals, new hopes, and New Year's resolutions. Since we're 'starting over' with a new year as the clock strikes midnight on January 1, it's a perfect time to go out with the old, in with the new and set new goals, implement new strategies and really hone in on things that we wish to accomplish in the new year.
However, the problem with resolutions is that we typically don't have a habit of sticking with them. They can seem more like an item you need to check off of your to-do list and can easily be forgotten or pushed to the side for "later." Miss a few days of going to the gym? Find yourself already behind on your strategy? Fallen back into old habits? When that happens it can seem like all is lost and we've missed our opportunity that the new year brings.
Introducing: word of the year. You may have already heard of this, but if you haven't, I'm so excited that I have the pleasure to introduce you! A word of the year is essentially a word that you choose that you're going to be sticking with for the year. Instead of a number of resolutions that will most likely be forgotten by February, your word of the year helps guide you in the decisions that you make for the remainder of the year. This word is intentional and has a lot of thought behind it, and it can positively impact your entire year… if you let it.
I started picking a word of the year in 2017, and it impacted my life and my business in ways I could only dream of. For example, in 2019, my word was growth. I wanted to grow as a person as well as in my business. While I wasn't always successful, most decisions I made revolved around pushing myself and resulted in some type of growth. "Will this help me grow as a person?" "Will this be positive for the long-term in my business?" If either answer was "yes," I took the leap.
That caused massive shifts I could have never ever predicted at the beginning of the year, but somehow they pushed me to be right where I needed to me. I tackled things that were challenging mentally and emotionally, which wound up with me adding an additional business location in Europe, completely revamping my business to be more aligned with what I wanted (not what I thought everyone else wanted) and growing to be the person I needed to be to have the gumption to do both. (For a complete overview of 2019, you can check this post out.)
How does one little word shape your year? In short, because you decide it's going to. If you find a word that truly resonates with where you want to be and then you make decisions based on its alignment with that word, amazing shifts will inevitably happen. Just know it's important to keep in mind that wanting is not enough. It's imperative that you not only make decisions based on your alignment with your word, but you also take action.  have to consciously take action to become a leader and to make things happen. 
It's never too late to start making strides on becoming the person you want to be or taking the steps to achieve whatever it is that you want to achieve. Be it January 1, February 1 or December 1, you just have to make the decision and stick with it. It's the small and consistent daily steps that allow you to achieve your goal over the long term.
So how do you pick that one little word of the year that is going to guide you for 365 days?
1. Reflect on the past year.
This will look different for everyone. Some people will meditate on their word. Some with pray about it. Whichever way that works best for you, reflect on the past year.
What went great for you last year?
Is there something you'd like more of in your life?
What would you like to leave behind from the past year?
Is there something no longer serving you that you'd like to have less of in your life?
2. Focus on the year ahead.
I'm not sure about you, but I overanalyze and overthink practically everything. And I don't want to commit to something until I feel that it is absolutely perfect. Don't do that in this case. Instead, focus on the year ahead and keep things simple.
What goals are important for you to achieve in the coming year?
Where would you like to go in the new year (personally as well as professionally)?
Who would you like to become?
How would you like your life to look and feel?
Focus, yes, but don't stress. The perfect word will come and when it does, you'll know it.
3. Don't rush the process.
Let the words and ideas flow. This is a marathon, not a sprint, and it isn't something you have to figure out immediately. Take the time that you need and it will come.
4. Be true to you.
Don't follow the crowd. Make sure your word fits you and where you want to go. Words have a tendency to circulate and some years several people will pick the same word. And it is absolutely fine if you have the same word as many other entrepreneurs… as long as it's a word that is relevant to where you are in your life and in your business right now, and not one you picked just because it was popular.
Additionally, realize that some years you will be more active and some more passive, and your word should fit accordingly. Some years will be more about your growth and others more about reflection. Recognize which season you're in and rock it, whichever that may be.
5. Find your word.
Find your word and stick to it. Sometimes your word will find you. Sometimes it takes a long time to figure it out and other times you know immediately that is your word. Trust your intuition. When you're trying to find your word, concentrate on inspiration and encouragement.
Will your word inspire you?
Will it encourage you?
It's important to have a word that will help you to push through even when the going gets tough.
6. Stick with it.
Amazing things really will start to happen and your word can (and will!) help you make impactful decisions with intentional action, but only if you stick with it. Make the decision and stay committed. Remember that great things don't happen overnight. Instead, it's the seemingly insignificant actions taken every day that help you to achieve your goals over the year and create significant change.
Remember, this doesn't have to start in January. You can start at any time – you just have to decide to and do it.
While I always love doing this at the beginning of the year, you truly can get tremendous benefit at any point during the year. I hope your 2020 is already off to a great start! What is your word of the year?