7 Reasons Branding Matters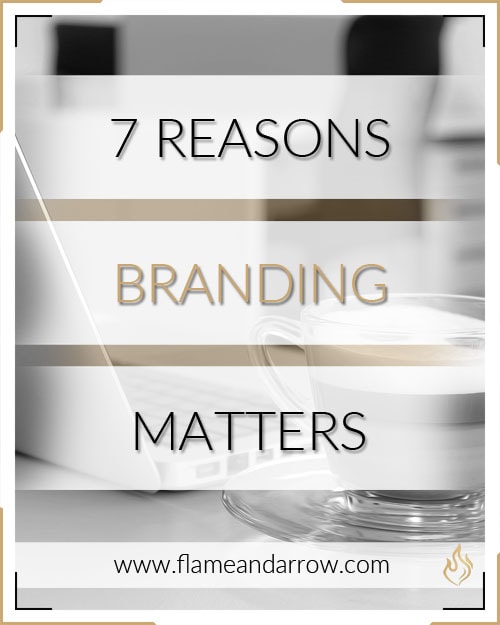 What is branding?
Branding is one of those concepts that is equally as difficult to explain as it is to grasp. It is complex and encompasses so much, but the term is thrown around and is often confused or misunderstood.
At its core, branding comes down to experience; it amounts to how it makes people feel.
Why does branding matter?
Builds trust
People work with companies that they can relate to and trust. If people don't feel that they can trust you or your company, you're probably not going to have that many clients or be very successful in your business endeavors (maybe you will, but it's unlikely).
An authentic, cohesive brand connects people to you. When your brand and brand experience are consistently presented across all platforms, you help build that trust. A positive experience and positive connection with your brand will help create trust between your audience. This translates into your audience transitioning into clients.
When you deliver a quality brand experience, you facilitate the gateway that allows consumers to put their trust in your company and the services that you provide. Additionally, when people have a great experience with your brand, they are more likely to tell others about their positive experience, which adds to your trust factor; as I meantioned earlier, people work with companies that they trust. This trust ultimately leads to increased visibility, higher revenue and brand recognition.
Brand recognition
Brand recognition is when someone can identify what your brand is through visuals rather than just your name. Good branding differentiates your brand from others and helps people know and recognize your brand. When a brand is consistent, looks incredible and portrays what it's trying to get across, it builds brand recognition.
Brand recognition can translate into consumers deciding to work with you versus another company and brand they are unfamiliar with. You can still be noticed and achieve brand recognition without being a huge corporation. A solid brand communicates to its audience effectively and positions itself on the networks that its audience is active.
Good branding creates positive experiences and memorable encounters with your audience. This helps you and your brand stand out and build brand recognition.
Creates community
Now I'm not referring to online communities, facebook groups or masterminds here. I'm also not talking about the strategies involved in creating a community, though great branding will certainly help. What I mean when I say that branding is important in the fact that it creates community is simply this: good branding builds relationships and creates meaningful connections.
When you have a brand that creates positive interactions and experiences for consumers, you will attract people who become loyal to your company and your brand. A strong brand has the potential to reach and attract strong influences. These influences can bring even more people in contact with your business.
Creating a community doesn't happen overnight. But a great brand that knows what its audience wants and actively solves their problem results in a community and a loyal, dedicated audience.
Helps you stand out
The world we live in is fast-paced, no doubt about it. You typically have about 7 seconds to impress someone before they click away from your website. Your tweet has an average lifespan of 18 minutes. And your photo on Instagram will likely be passed in seconds in a never-ending scroll. Unless you stand out enough to make people stop, or at least slow down, to see what you have to say.
In such a crowded marketplace, it seems like there are hundreds of other people offering the same services in your specific niche. So how do you stand out? Good branding. When you pair good branding with outstanding design and great content (or something else highly valuable) that resonates with your audience, you can create amazing experiences for anyone who comes in contact with your brand and stand out of the crowd.
Solid, cohesive branding will help you stand out in a saturated market, even when your audience is quickly on to the next thing.
Still working on your brand? Grab the free Brand Clarity Workbook below!
Sets you apart
As mentioned in the point above, there are probably hundreds of people in your field doing something similar as you. This can be from offering services resembling yours, teaching similar courses, writing about the same content or selling comparable products. While I truly believe there is absolutely enough work to go around for everyone and try to focus more on community rather than competition, I also acknowledge that it's not a bad thing to stand out as a leader from those who are doing nearly the same thing.
Good branding can help you position yourself as a leader in your industry. Having a strong, cohesive brand that is consistent and constantly focuses on your audience and solving their problems helps set you apart as an expert in your field. It also adds even more to your trust factor and can give you a distinct competitive advantage.
Being viewed as a leader allows you to reach a bigger audience and help even more people.
Makes you look professional
Perception is everything regarding branding. It doesn't matter how you want to be perceived if your brand isn't consistent with your message and what you're trying to portray. Good, intentional branding helps you look professional.
First-impressions are lasting and can be hard to reverse if they are negative. If you have a mix of fonts and colors across multiple platforms, your website design is lacking or your brand isn't cohesive overall, it's going to be hard to convince people coming in contact with your brand that you are a professional worth trusting. The result of that means that they probably won't come back a second time.
People will assign a value to your brand, including all of the pieces that go into it and all that it stands for. If people are confused or associate your brand as unprofessional and of low-quality, your opportunity to work with them is probably slim to none. On the flip side, if your branding is cohesive and professional, your audience knows that you're serious about what you do. Good branding reflects that you have put time and thought into how the world sees you and shows that you care. When your audience perceives your brand as professional, they are more likely to invest in your products and services.
Creates clear expectations
A solid brand has its fundamentals – mission, core values and vision – as its foundation. Good branding allows a company to portray what these fundamentals are while also accurately conveying who it serves. This means that high-quality branding attracts its target audience and doesn't waiver from its values.
That means you won't resonate with everyone (which is a good thing!). It also means that a solid brand creates clear expectations because your audience knows exactly what they can expect, and the brand delivers accordingly.
Keep in mind that a good brand matches the perceptions of what consumers have. If it does not follow through on delivery, consumers will probably discontinue doing business with the brand. Failing to meet these expectations can be detrimental. However, a solid brand creates clear expectations, which strengthens the brand as well as its overall perception.
Still working on your brand? Grab the free Brand Clarity Workbook below!